What's On Your Plate? A Look at School Meals Around the World
Have you ever wondered what children around the world enjoy for lunch at school? While you might have a plate of pasta or a slice of pizza, kids in other countries savor different meals that reflect their unique culture, traditions, and resources. Let's take a closer look at what foods children consume in schools from Cambodia to Venezuela, all the way to Sri Lanka and Somalia, and many more! 
From pineapple stews to colorful salads, get ready to discover some delicious and nutritious meals while learning about the country's culture, as well as how the UN World Food Programme is supporting children's education and health across the globe. 
Democratic Republic of the Congo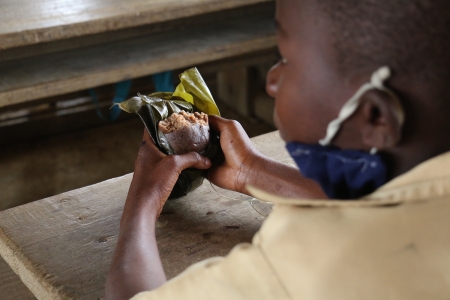 © WFP/Alice Rahmoun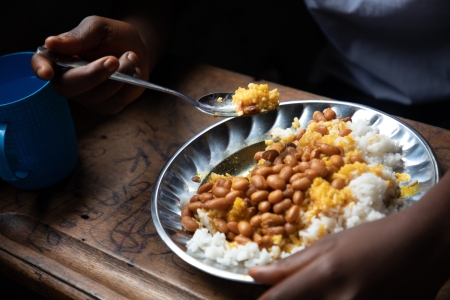 © WFP/Vincent Tremeau
Welcome to the Democratic Republic of the Congo, a Central African country situated along the equator with a rich history, diverse culture, and abundant natural resources. Did you know that Congo is home to very dense rainforests that cover over 60% of its land area, making it one of the world's most ecologically diverse regions? The favorable climate and fertile soil allow for the cultivation of a variety of crops, including cassava, bananas, maize, rice, and beans. One of the most popular local snacks in schools is Mbala Pinda, a delicious and nutritious dish made by grating cassava and mixing it with peanuts, spices, and seasonings. The dough is then wrapped in banana leaves and sometimes fish is added before being fried to perfection.  
To promote the local food system and address hunger in schools, WFP has initiated a groundbreaking program involving the sourcing of Mbala Pinda made by a women's group and distributing it in schools across the country. By providing nutritious meals to students, this program not only helps to maintain children in schools but also contributes towards boosting their health, supporting the local economy, and reducing poverty levels. 
Cambodia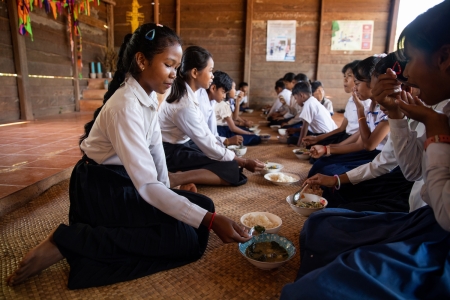 © WFP/Samantha Reinders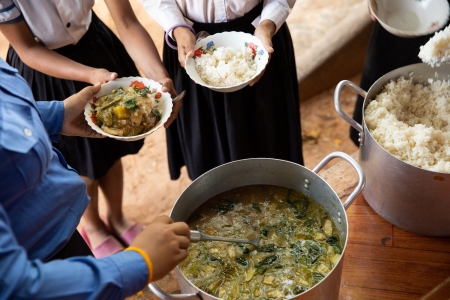 © WFP/Samantha Reinders
Cambodia is a captivating country located in Southeast Asia that boasts a fascinating history, culture, and abundance of biodiversity. With over 20,000 plant and animal species, Cambodia's forests and rivers are home to a diverse range of life, including the largest freshwater lake in Southeast Asia. 
The Tonlé Sap Lake, part of the Mekong River system, plays a vital role in supporting the country's agriculture and fish industry, providing locally sourced ingredients for delicious dishes like Samlor Korko, a traditional soup made with fresh vegetables, fish or meat, turmeric, lemongrass, and rice. These ingredients are rich in antioxidants and anti-inflammatory properties, which protect children from harmful free radicals and bacteria. In addition to these ingredients, cassava, corn, and fruits are also commonly grown crops essential to Cambodia's agriculture and economy.  
The World Food Programme actively encourages schools to convert to the consumption of home-grown crops supporting local farmers and providing children with diversified food rich in nutrients and flavor. In 2023, WFP aims to serve nutritious school meals to over 175,000 children in Cambodia!  
Haiti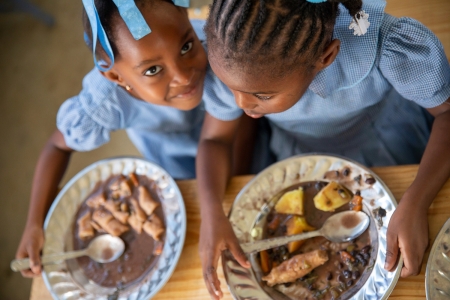 © WFP/Theresa Piorr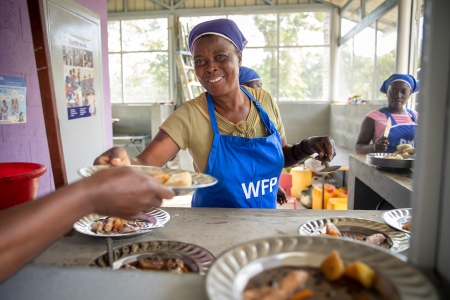 © WFP/Theresa Piorr
A vibrant Caribbean nation known for its talented artists and athletes; Haiti not only has breathtaking scenery but also a renowned cuisine. Agriculture is a vital component of the Haitian economy, employing over half of the population and producing key crops such as coffee, mangoes, sugarcane, avocados, and bananas. 
A typical school lunch in Haiti features rice and beans, a beloved staple in Haitian cooking, alongside fried plantains and legim, a flavorful vegetable stew. Chicken, fish, and griot, a crispy fried pork dish, are also popular meats found in traditional Haitian meals.  
Despite the country's significant agricultural potential, its tropical climate and limited access to modern farming methods have hindered productivity. WFP Haiti's Home-Grown School Feeding Programme helps address these challenges by linking school feeding initiatives with local smallholder farmers, providing children with nutritious, diverse, and locally grown food while boosting local economies simultaneously.  
Sierra Leone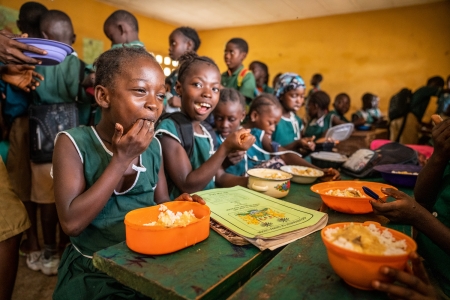 Michael Duff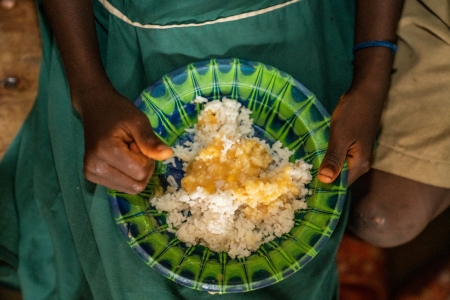 Michael Duff
Sierra Leone is a beautiful nation in West Africa renowned for its beaches and vibrant culture. It is also home to the Sierra Leone River Estuary, one of the largest natural harbors in the world and a major source of income for local fishermen. 
The country's cuisine varies from region to region, but the typical school lunch usually consists of rice with vegetable sauce and meat or fish, called 'soups.' These soups often contain cassava leaves, peanut butter, and okra, a green vegetable often used to thicken soups and stews. Sweet potatoes, yams, and ground nuts are typically grown using traditional farming methods, with most of the work being done by hand or with simple tools. 
WFP's school-feeding program in Sierra Leone has benefited over 216,000 children in 970 primary and pre-primary schools by providing one hot meal per child per day. The program also includes training on food safety and innovative agriculture, helping create a better future for the children of Sierra Leone.  
Venezuela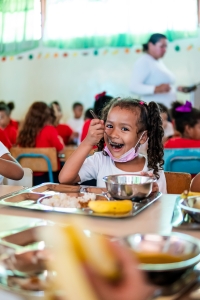 @WFP/Elias Miranda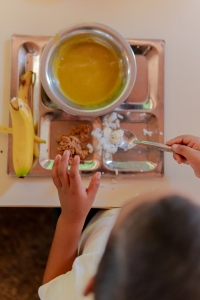 @WFP/Elias Miranda
Located on the northern coast of South America, Venezuela is home to the world's tallest waterfall, Angel Falls, which stands nearly 20 times taller than Niagara Falls. The nation's tropical climate is ideal for diverse agriculture, with crops such as coffee, cocoa, sugarcane, and corn commonly grown year-round. 
Venezuelan school children typically enjoy a delicious cream soup called "Crema de Auyama," made with pumpkin, onion, garlic, chicken broth, and cream, along with a side of rice and meat, such as chicken, and fruit for dessert.  
WFP has recently launched a hot meal program in Venezuelan schools, serving fresh food to over 16,000 school children and staff in more than 100 schools. According to Laura Melo, WFP Country Director in Venezuela, "A plate of fresh, tasty food is an important incentive for children to attend and stay in school, where they belong. Everything from there is a win: better learning, better health and nutrition, better opportunities for them and their families."  
Rwanda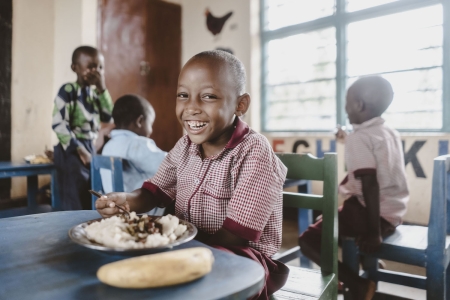 © WFP/Arete/Fredrik Lerneryd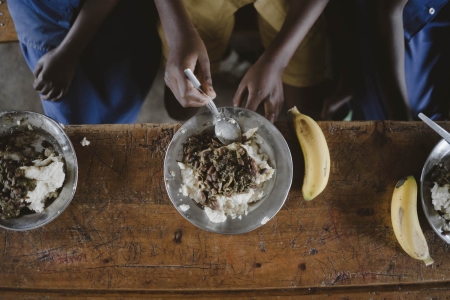 © WFP/Arete/Fredrik Lerneryd
Known as the "Land of a Thousand Hills" due to its scenic hilly landscapes and mountainous terrain, Rwanda is a small country located in East Africa home to 13 million people. Due to its high elevation, Rwanda has a temperate tropical highland climate that favors the growth of a diverse range of crops, such as tea, banana, pineapples, maize, beans, and potatoes. Did you know that coffee is Rwanda's top export crop, renowned for producing some of the best quality coffee beans in the world? 
Rwandan cuisine is celebrated for its simplicity and emphasis on plant-based foods like vegetables, grains, and beans. For school lunches, a typical menu may include a main dish of maize or rice, complemented by a vegetable-based stew or bean dish. Children and locals also relish traditional dishes such as Isombe, made with cassava leaves, spinach, and eggplant, which provide essential nutrients.   
WFP remains committed to assisting the Rwandan Government in shifting the agricultural sector, transforming it from a low-yielding industry to a profitable, market-oriented one that increases rural incomes and access to nutritious food. 
Sri Lanka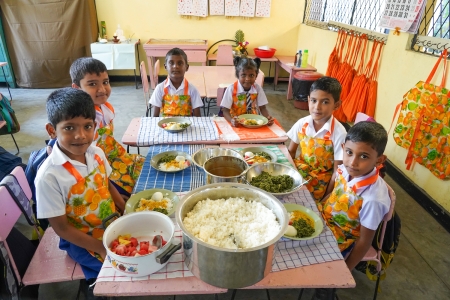 Carol Taylor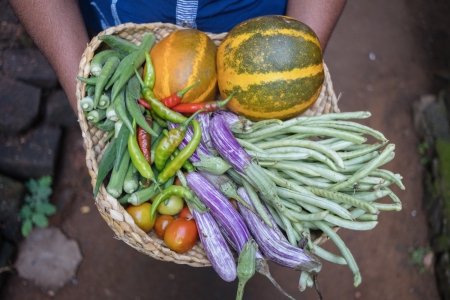 Ruvin de Silva
Sri Lanka, an island nation located in the Indian Ocean off the southern coast of India, is known for its pristine beaches, diverse wildlife, and flavorful cuisine. One of Sri Lanka's most renowned exports is tea, which has become an integral part of the country's culture and economy, making it the leading exporter of tea in the world.  
With its tropical climate and fertile soil, Sri Lanka has an agricultural bounty that includes coconuts, spices, fruits, vegetables, and even cinnamon. At schools across the country, a typical lunch includes rice paired with various curries, such as Dhal (lentil curry), Brijal (eggplant curry), and potato curry. The dishes are typically seasoned with bold spices like cumin, coriander, and turmeric, making them nutritious and flavorful. Fruits like bananas or papayas often serve as a sweet finish to the meal.   
To ensure that children receive fresh and balanced meals, the United Nations WFP's "Home Grown School Feeding Project" supports school meal caterers in growing their own produce, while avoiding increasing market prices. This project enables students to receive wholesome meals that are both delicious and nutritious.  
Somalia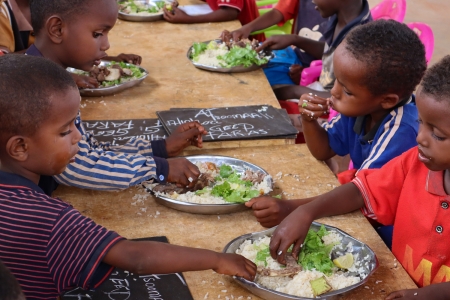 © WFP/Geneva Costopulos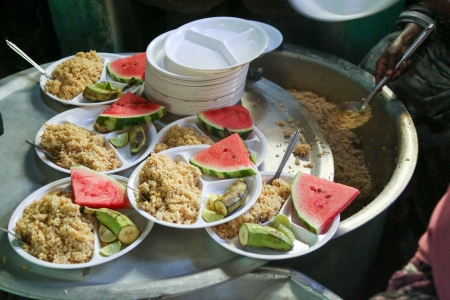 Patrick Mwangi
Somalia is a country located in the easternmost part of Africa, with a coastline that stretches over 1,800 miles along the Indian Ocean, making it the fourth-largest peninsula in the world. Did you know that Somalia is also home to some of the world's oldest cave paintings, which date back over 5,000 years, depicting wild animals, herders, and ceremonial practices?  
While the climate is primarily hot and dry, the southern regions receive more rainfall, resulting in more fertile soil, which is ideal for agriculture. The country's traditional cuisine is renowned for its diverse range of flavors, spices, and hearty stews. The most frequently grown crops include sorghum (a cereal crop), maize, cowpeas, and bananas.  
School meals in Somalia typically consist of a mix of grains, such as rice or cornmeal, and beans or lentils, with vegetables and fruits included when available. However, due to the ongoing conflict and instability in the country, access to food can be limited. WFP's school feeding program in Somalia provides a vital safety net by providing schools with vouchers to purchase diverse and nutritious foods, while supporting smallholder farmers and promoting agricultural development.  
---
Now, We Want To Hear From You!
School meals are as diverse as the cultures they come from, but it's not just about the food. It's also about the traditions and resources of each country.  
Now, it's your turn to share what you and your friends eat at school! Join our campaign to showcase the unique flavors and dishes that make up school meals around the world. Share pictures of your lunch and use the hashtag #What'sOnYourPlate to participate!  
Not only will you get to show off your favorite meal, but you'll also be supporting the UN World Food Programme's efforts to provide nutritious meals to children in need.  
Together, let's celebrate the richness of cultural diversity and the importance of access to healthy food for all children.