From Soil to Success: Meet the Kenyan Farmer Empowering Women for a Sustainable Future
Habiba, a Kenyan leader, farmer, and mother of seven, empowers vulnerable women in her community through the Habiba Farmers Group.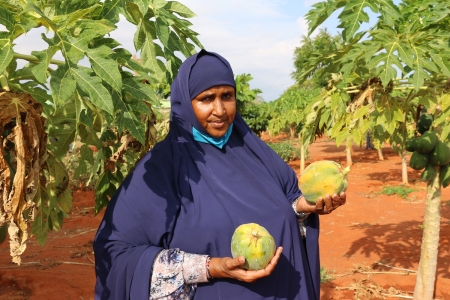 © WFP/Martin Karimi
Women's Hidden Role In Agriculture  
Women play an important role in the agricultural labor force around the world engaging in both formal and informal work while shouldering the majority of unpaid domestic and caregiving responsibilities within rural communities. They are crucial for maintaing food security and nutrition by effectively managing land and natural resources, and building resilience in the face of climate challenges. Unfortunately, their invaluable contributions often go unnoticed and undervalued.  
Reports by the United Nations show that on average, women make up 40% of the agricultural labor force in developing countries. Despite this, less than 15% of landowners worldwide are women. 
"Women are the bedrock of food security, and yet are hardest hit by climate shocks and food insecurity," explains Valerie Guarnieri, WFP's Assistant Executive Director. "A sustainable future is only possible when women and girls have what they need to adapt to the changing climate."  
According to the UN, giving women the same opportunities as men could rise agricultural production by 2.5% to 4% in the poorest regions and the number of malnourished people could be reduced by 12 to 17 percent.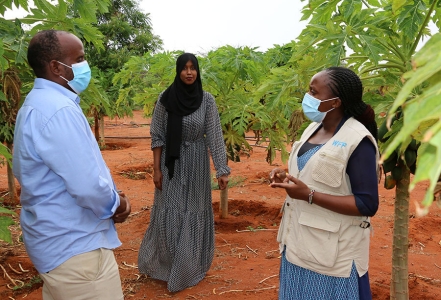 © WFP/Martin Karimi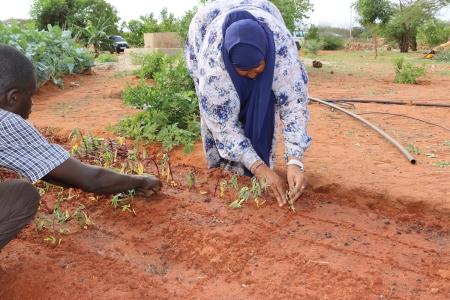 © WFP/Martin Karimi
The Habiba Farmers Group   
In 2017, Kenyans suffered the consequences of a severe drought which impacted the work and crops of many farmers, including the country's agricultural sector, its economy, and the livelihoods of millions of people. The drought mostly impacted women, given their crucial role in agricultural activities. 
Living through this hardship motivated Habiba, a local farmer and mother, to create Habiba Farmers Group. Located in Wajir County in north-eastern Kenya, the group employs 14 women who grow and sell their own crops harvested on Habiba's farmland.  
"My religion does not allow me to fill my stomach when my neighbor is hungry," says Habiba. "So, I must help as many as I can with the little that I have. To me, this is sadaqah [the Islamic notion of 'voluntary charity']." 
Group members are encouraged to harvest produce, especially kale and tomatoes. The group also grows spinach, pawpaw and watermelon. 
"Any member who is in need can come here and collect fruits or vegetables and sell them at the market," says Habiba. "If they make a sale of 100 shillings [US$0.90], they keep 30 shillings and remit 70 shillings to the group." 
The profits gained from the sales are then distributed among the members, allowing the women to meet household and personal needs. On average, each member receives approximately 5,000 Kenyan shillings (equivalent to US$45) as their share. 
At the end of each month the women gather to review the financial records alongside Farhiya Ahmed, the group's secretary. 
Farhiya is the oldest of nine children and was raised by a town laborer and a housewife. Despite financial limitations, she pursued her education with the help of scholarships, and today, plays a vital role in providing food for her family. 
"This farm is a sanctuary for us all," says Farhiya. "I am a graduate, but I haven't found a job. Habiba brought me here to help keep records. It keeps me occupied and I earn some money."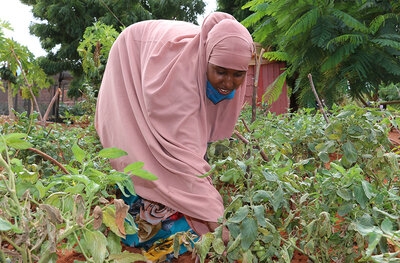 © WFP/Martin Karimi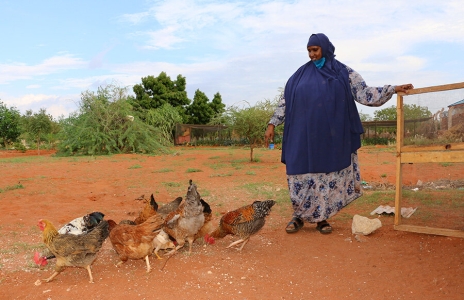 © WFP/Martin Karimi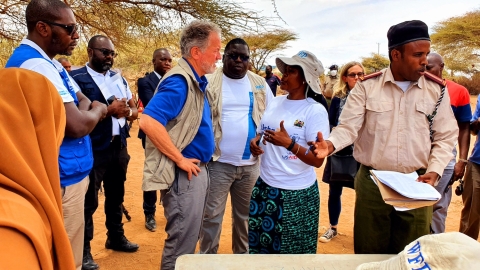 © WFP/Martin Karimi
Empowering Women  
Thanks to their funds, many of the women have been able to expand and explore other businesses and activities. So far, Habiba's farm has helped six women use their savings to open their own restaurants. 
The World Food Programme has also partnered with national and county governments to enable food distribution and security for all Kenyans. Amongst these is the government of Wajir County, Habiba's home, which ensures that farmers like Habiba have access to the technical skills and knowledge necessary to expand and diversify their livelihood. In Kenya, WFP supports approximately 390,000 people through various initiatives, 51% of those are women. 
Learn more about WFP's work in Kenya here