An Ode To Rice
Wednesday, 23 November 2022
In Brazil, rice is a common staple found everywhere. In Taiwan, it is the same, if not even more ubiquitous. Add into the mix a person that identifies herself as a Third Culture Kid (someone who was raised in one particular culture that is different to their parents' culture/nationality and also lives in a different environment), and I must consider that my adoration for rice twofold. I was born and raised in Brazil to Taiwanese parents while also having an American upbringing. Abridging my east with west sides of myself was the norm — with the occasional frustration of being unable to conform to a sole cultural role. Truly, I am far more accepting of being considered simply a citizen of the world, just like rice is a staple food in our world.
©Yone Liau
I don't consider rice to be a side dish. To me, it's an essential part of making a meal feel whole. One of my aunts says, "I must eat rice every day, if I don't, it doesn't feel like I've eaten." I must agree with that sentiment. Out of the carbohydrate staples that most of us eat — bread, noodles or rice — the latter is the one that adore.
Whenever I'm feeling ill or have a stomachache, a bowl of rice congee made with leftover rice is a healing meal. Like for many of us, food is a source of comfort.
On days that I'm too lazy to cook (we all have those), my rice cooker will do the job and I will eat a bowl of steamed plain rice, sometimes with just a dash of soy sauce or furikake (a Japanese rice seasoning). If I'm out and about, a 飯糰 (fan tuan) or rice ball is the perfect takeaway snack to eat on the go. Sometimes I'll make my own rice balls for a hike. There's also this new habit I picked up from my relatives, whenever washing rice before cooking, instead of tossing the rice water down the drain — I use it to water my houseplants.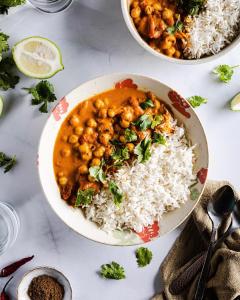 Garam masala chickpea curry with rice ©Yone Liau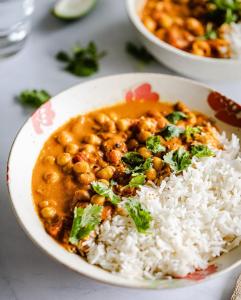 Garam masala chickpea curry with rice ©Yone Liau
It took moving away from my homeland of origin to truly unravel the emotional baggage I carried for rice. Departing from a place you know well during your foundational years and going out into the world has made me appreciate what we assume as mundane as quietly extraordinary. One of my most coveted memories when it comes to rice was a day where I truly noticed that all rice wasn't the same. 
I was at the school cafeteria with my tray when the cafeteria lady served a scoop of rice. I immediately noticed that this Brazilian rice was loosely falling onto my tray. It wasn't sticking together like when my mother made it in the rice cooker. Brazilian rice also has a different aroma: it is cooked with oil, garlic, onion and bay leaves, while the rice at home is simply water and steamed. And just try eating Brazilian-style rice with chopsticks. It's not easy when the rice isn't sticking together!
Though I had seen this rice many times before, I realized that the rice cooked at home was different than the rice cooked outside of my home. My mind was blown on that day, and I declared that I would only eat aromatic Brazilian rice.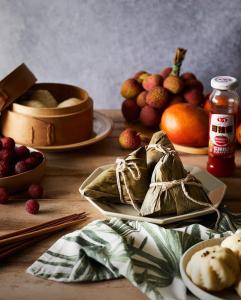 Rice dumplings served with sweet chili sauce ©Yone Liau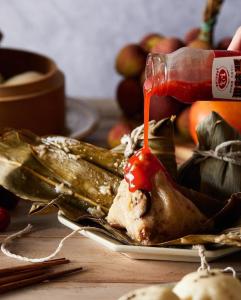 Rice dumplings served with sweet chili sauce ©Yone Liau
Having such a strong connection to rice and food, it's no surprise that years later I've found myself in the career of food photography. For the above featured image, it was taken with the idea of expressing who I am and the culture I come from through the median of food.
Immediately I thought of rice and how the grains, whether short or long, up close appeared to resemble shards of quartz. Rice is a true gem of a food. Where I currently live, here in Taiwan there are so many varieties of rice and for this shot I used Taiwan no. 71 rice (台農71號) grown in Changhua County on the outside and long grain rice on the inside. I couldn't get a hold of typical Brazilian rice grains here but Thai Jasmine rice gets close enough. The goal for the image was to grant any viewer a new perspective on something we find basic to a little more extraordinary.
---
Brazilian Sweet Rice "Arroz Doce"
INGREDIENTS
1 cup (tea) of rice
3 cups of milk (tea)
2 cups of water (tea)
⅓ cup (tea) of sugar
½ can of condensed milk
1 orange
1 cinnamon stick
3 cloves
1 pinch of salt
ground cinnamon for garnishing
DIRECTIONS
Wash the orange peel well under running water and dry it. Using a vegetable peeler/ paring knife, slice strips of orange peel, careful not to cut into the white part - it'll turn the food bitter.
In a medium saucepan, mix the milk, water, sugar and salt. Then add in rice, orange peel strips, cinnamon sticks and cloves. Bring to a boil over high heat and stir until it starts to boil.
Once it boils, lower the heat and allow it to cook for another 20 minutes, stirring occasionally, until the grains soften up.
Add in condensed milk and cook for another 5 minutes or until it's creamy.
In a bowl, transfer your rice pudding and cover it with cling film or an airtight silicone cover. Your rice pudding needs to cool down before being put to rest in the fridge.
For serving, scoop out the desired amount and sprinkle with ground cinnamon for added spice.
---
Yone Liau is a food photographer from Brazil and is based in Taiwan. When she isn't doing a photoshoot, she delights herself in exploring local food culture wherever she goes. She also once used the original Freerice website to study new vocabulary and now shares it with many learners.