A New Boat Helps A Fisherman Improve His Catch
Did you know that the number of weather-related disasters has increased five-fold over the last five decades? Over 40% of the global population lives in areas that are highly vulnerable to climate extremes. Last year, 23 million people were pushed into severe hunger due to the climate crisis.
By implementing climate solutions in these communities, the UN World Food Programme (WFP) is helping vulnerable people build resilience against future disasters like floods and droughts which impact food security.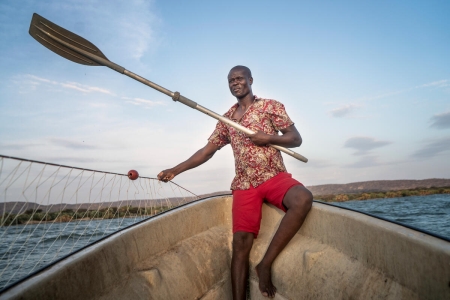 ©WFP/Arete/Fredrik Lerneryd
I want to tell you about Emmanuel Ibei Maraka, a father and fisherman who receives support from WFP. He lives on the shores of Lake Turkana, in northern Kenya, an area highly affected by climate shocks. Emmanuel used to raise livestock but shifted to fishing, largely because of more frequent and intense droughts wiping out his livestock.
His mother (the daughter of a fisherman) taught him fishing. He started fishing on a raft before saving enough to buy a wooden rowing boat. In 2020, Emmanuel and his fishing group received a motorized, durable fibreglass boat, fishing gear and training from WFP, as part of efforts to provide families in northern Kenya with tools and skills to diversify their sources of income and food while adapting to new climatic realities.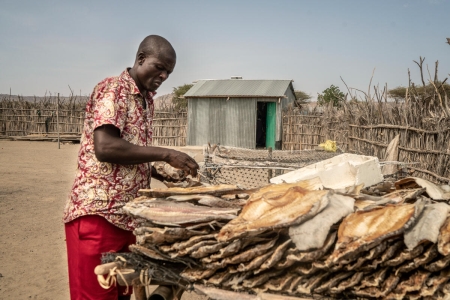 ©WFP/Arete/Fredrik Lerneryd
Having access to a motorized boat has allowed Emmanuel to increase the amount of fish he catches, and with the new fishing gear, he can now fish safely and sustainably. "I rely on fishing to feed and provide for my family. I want my children to get an education and build a better life for themselves," he says.
WFP is also building a cold storage facility so that Emmanuel and his fellow fishermen can supply fresh fish, which sells for a higher price than dried, smoked or dried fish, to external markets. Emmanuel still has a few animals left but now relies on fishing to feed and provide for his family. He wants his children to get an education and build a better life for themselves.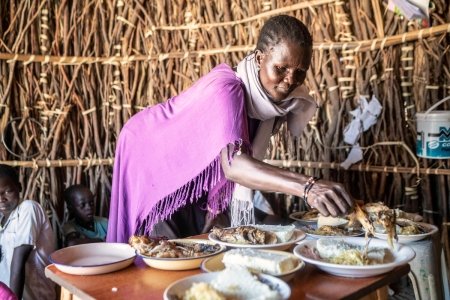 ©WFP/Arete/Fredrik Lerneryd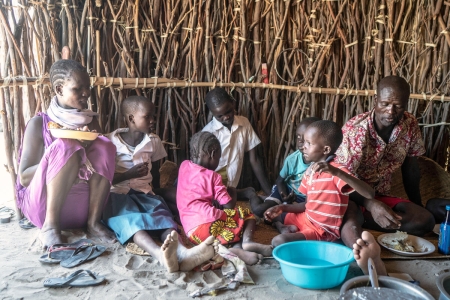 ©WFP/Arete/Fredrik Lerneryd
---
In Kenya, WFP supports families with nutrition programmes, and provides families with climate-friendly alternative livelihoods such as fishing, beekeeping and drought tolerant crops, micro-irrigation systems and other activities to improve their food security and build resilience.
On this #SolidarityDay, WFP calls upon the world to stand in solidarity with the millions of hungry people who contribute least to the climate crisis but are now bearing the brunt of the impacts.
Learn more ➡️ Climate crisis | World Food Programme