How Mushrooms Can Help Grow Household Income
Wednesday, 9 November 2022
Have you ever wondered what is the story of a mushroom?
For most of us at home, a mushroom is an easy ingredient to add into a salad or add to a stew. The story begins at a grocery store or a local farmer's market and ends with a meal on our plates. But for Sahera and families in Bangladesh, mushrooms are much more than a simple ingredient. They tell the story of overcoming climate challenges. A story of resilience. Of hope.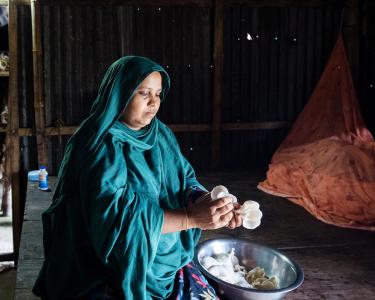 ©WFP/Sayed Asif Mahmud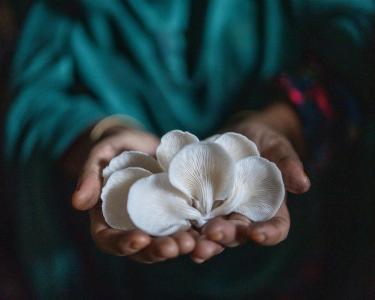 ©WFP/Sayed Asif Mahmud
"My husband used to be the breadwinner for our family. But it was a huge pressure on him," says Sahera, a WFP beneficiary in Bangladhesh. "Now that I make money by farming mushrooms, I can help out."
In Bangladesh, Sahera Begum's newfound mushroom farming skills provide an opportunity to earn a living year-round, without being dependent on seasons. Mushrooms need just a small amount of water and can be grown close to home. She has already sold 17kg and even has enough left over from her harvest to cook some for her family.
Thanks to training and cash assistance from WFP, Sahera was able to start her own business to be self-reliant. Now WFP and partners are working to link her with local markets to help her to grow her business even further.
"Mushrooms are packed with nutrients. I love to cook them. They can be cooked with other vegetables, fish or even meat. I can also make a fried snack out of them. My kids love to eat mushrooms and often ask me to fry some for them."
Rich in Vitamin B and Potassium, mushrooms have lots of nutrients that contribute to a healthy diet. What's your favorite way to eat mushrooms?