Breaking Barriers, Scaling Summits: The Inspiring Journey of the Cholitas Escladoras in Bolivia
In the heart of the Bolivian highlands, a group of remarkable indigenous women known as the Cholitas Escaladoras Maya are defying altitudes while shattering gender norms. These women have fearlessly embraced mountaineering to become powerful advocates that are empowering indigenous women and preserving their cultural heritage.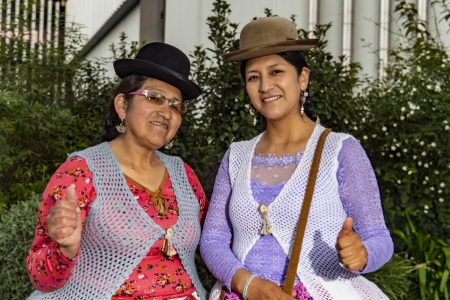 WFP/Rein Skullerud
The Cholitas' Trailblazers: Lita and Dora 
Dressed in their polleras, a vibrant and voluminous traditional attire, the Cholitas Escaladoras have scaled some of the highest peaks in the Americas. They are part of the Aymara, one of the largest indigenous ethnic groups in the Andean region of South America, with a rich cultural history that predates the Inca empire. By proudly maintaining their cultural identity and refusing to be limited by societal expectations, Lita and Dora embarked on a journey that would change their own lives and inspire others. 
Lita, short for Ana Lia Gonzáles Magueño, started her professional climbing career at the age of 15. She has achieved remarkable goals, including reaching the highest point in the Western Hemisphere — the summit of Aconcagua in Argentina which stands at an impressive 6,962 meters (about 4.33 mi).  
Lita's mother Dora, also known as Teodora Magueño de Gonzáles, started her climbing journey as a mountain cook, preparing ancestral foods at high altitudes for tourists climbing alongside her husband, a mountain guide. 
"Food is important for us to be able to climb the mountain because it requires strong physical energy" says Lita. 
The menu typically includes a wide variety of potatoes, quinoa, and dried llama Jerky.  
"We eat a lot of vegetables in the mountains, and we make soups because they are much better than water for hydration. In addition, we drink a lot of coca tea that gives us strength to climb the tops of the mountains," says Lita.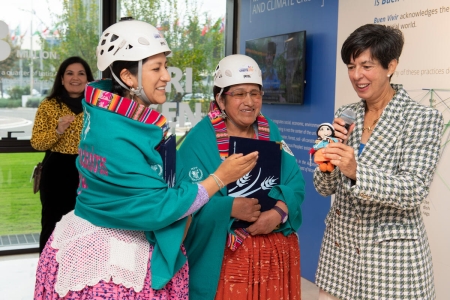 WFP/Rein Skullerud
A Symbol of Empowerment  
Through their mountaineering pursuits, the Cholitas Escaladoras also shine light on the impact of climate change on the landscapes of the altiplano, a region characterized by sacred mountains. The women's firsthand accounts of how climate change is affecting their environment emphasize the urgent need for environmental conservation and preservation of their sacred spaces.  
"As Aymara women, who have managed to reach many heights, we know that nothing is impossible if you put your mind to it," explain Lita and Dora. 
In 2022, the World Food Programme (WFP) officially recognized the outstanding accomplishments of the Cholitas Escaladoras and their potential to empower indigenous women in Bolivia and appointed these exceptional women as high-level national collaborators. This collaboration is aimed at improving nutrition, enhancing food security, creating more employment opportunities, and empowering women to access better markets for their cherished ancestral products.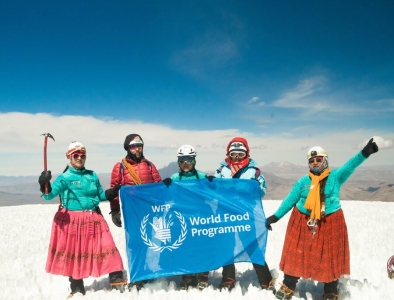 WFP Bolivia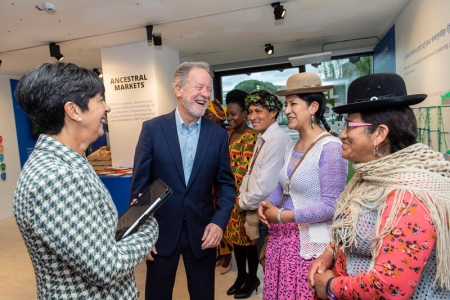 WFP/Rein Skullerud
The Cholitas Escaladoras actively engage in WFP related projects and activities, undertaking field missions and delivering motivational talks to Bolivian indigenous youth. Their experiences and advocacy for the importance and appreciation of ancestral foods contribute to the exposure of Bolivian traditional culture while promoting the importance of healthy and nutritious meals.  
"We plan to go to the communities, share our experiences and talk about the importance of our food, so that young people learn to value and understand the properties of our products," says Lita.  
"We women are strong and brave, and to want is to be able to", affirms Dora about her decision to climb the world's mountains and spread her message that women who dare to pursue their dreams can achieve the seemingly impossible.  
Lita and Dora's determination, resilience, and commitment to empowering their communities are evidence of the power individuals have in making a positive impact.  
Now it's our turn to join their cause and support their efforts.  
Here are a few ways you can make a difference: 
Educate yourself: By better understanding indigenous cultures, as well as their challenges and strengths, we can become better allies and advocates. 
Support indigenous artisans and producers: Seek out and purchase products made by indigenous artisans and producers. This supports their livelihoods but also helps preserve their cultural heritage. 
Support indigenous led initiatives: Look for organizations and projects that empower these communities, support ancestral food production, and address climate change. Making donations or volunteering is very helpful!  
Spread awareness: Use your voice on social media, in conversations, or through personal storytelling to raise awareness about Cholitas Escaladoras and other indigenous communities.  
Reflect on gender inequality: Challenge and break down barriers and gender norms in your own life and encourage others to do the same. Support women in pursuing their dreams and fulfilling their potential.  
Together, we can stand with the Cholitas Escaladoras and indigenous communities around the world as we celebrate their rich cultural heritage and climb towards a more inclusive and sustainable future.